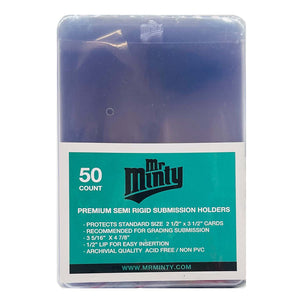 2 Pack - (2) Mr. Minty Semi Rigid Card Holder 50/Pack, + (1) 100 PCS Poly Sleeves
Perfect for grading submissions.  Made of premium ultra clear PVC.  Our holders are perfect for sports card, trading cards and gaming cards. Fits standard cards 2-1/2" x 3-1/2" and small. Designed with a 1/2" lip for easy insertion and embossed logo.
2 PACKS OF 50, 100 PCS TOTAL
PLUS 100 PCS POLY SLEEVE
Archival-grade, acid-free and non-PVC premium card sleeves designed to hold standard 2-1/2" X 3-1/2" cards. Made from heavy-gauge clear polypropylene for improved protection. Ideal for use with toploaders. Made in the U.S.A. 100 count per pack.
Holds standard size cards 2-1/2" X 3-1/2"
Heavy gauge ultra clear polypropylene
Consistent sizing
Fits inside Toploaders
No PVC / Acid Free