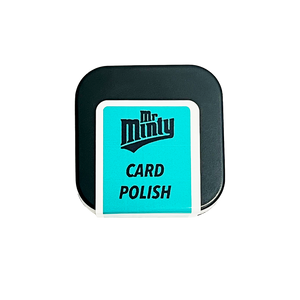 Mr. Minty Card Polish
Mr. Minty Card Polish all-natural solution that you can trust for your collection. The polish was developed for the glossy surfaces of ultra-modern trading cards in mind.
Our polish is odorless and colorless. In addition it is free of artificial ingredients and abrasive automotive compounds that can harm your collectables. 
It safely preps common surface imperfections including factory films & residue, surface spotting and elements from outside sources. 
 Your collection will POP! as brilliance and luster is restored. 
Perfect for the glossy coated surfaces of Finest, Prizm Silver, Optic, Chrome and Refractor cards.
Please Note **Effective on minor surface scratches, but please note that many scratches are too deep to improve.
Directions:  Apply a small amount of polish onto the Mr. Minty polish applicator.  Spread polish on the card surface in a circular motion.  Let polish set for a few minutes.  Remove polish with the buffing pad in a circular motion starting inward and moving out.  Be sure to go over your cards a few times to remove all polish from the card.
PRO-TIP:     "Practice???"  Yeah, A.I.  we all need practice.  Spend quality time practicing with Mr. Minty tools and products on common cards to gain experience and technique before moving onto your prized collection.