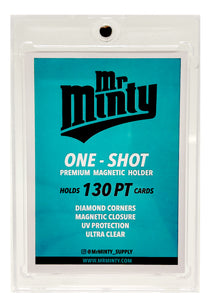 3 Pack - Mr. Minty One-Shot 130pt. Magnetic Holder
Mr. Minty 130pt ONE-SHOT holders are premium trading card storage cases, that are great for display.  Mr. Minty 130PT one-shots are perfect for thick cards including patch, relic, auto and RPA cards  (2-1/2" X 3-1/2") in size.
Perfect for Sport or Gaming Cards.

Sized to fit standard size (21/2" x 3-1/2") sports trading cards or gaming cards up to 130 pt thickness
Made with non-PVC, ultra clear materials with UV-blocking additives
Diamond corners to keep card corners in mint condition
Frosted borders and ultra clear materials to show your card's true colors with premium presentation
Slide-in hinge and magnetic closure keeps your card secure
Comes with 3 One-Shot holders.